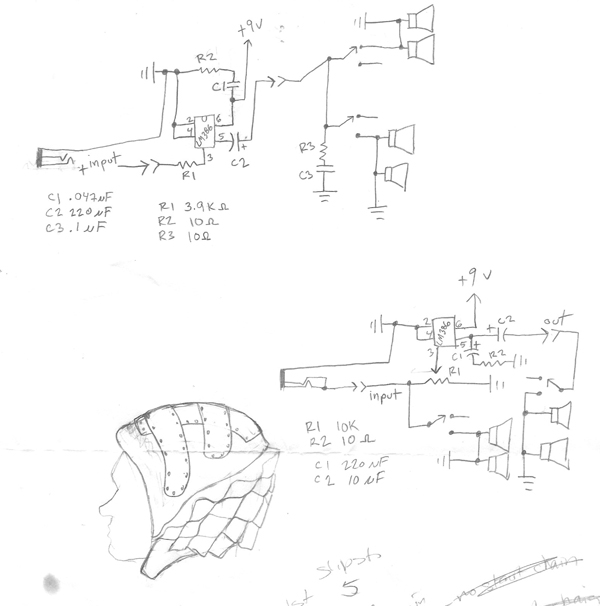 Initial sketch of felted Transducer Headdress. Taking from the comm cap nature of an aviator flight helmet, I designed this headdress to have headphone speakers embedded in the ear flaps and and external speaker embedded in the honeycomb texture on the back.
I built in two switches, one to turn on/off each set of speakers, the internal and the external. Originally I had two external, but cut it down to one due to a lot of noise on the circuit when both were attached.
Noise was my worst enemy building this circuit.
The external speakers needed an amp in order to get loud enough for others around you to hear. I used a LM386N-1, which you can see in the two schematics above. The top schematic I built first. Later on I stripped that one down to the one of the right and added a larger cap in one area to reduce the noise greatly. I learned a lot about how to build this circuit on this very helpful website.
My motivation to make this headdress was being asked to be part of the art show Headdress at Five and Diamond in San Francisco. This show has an incredible lineup of SF artists and designers, most local, if not local they got their start in SF.
Each of the 30 artists got the same leather flight helmet to do what they wanted with.
They are all for sale on the five and diamond website.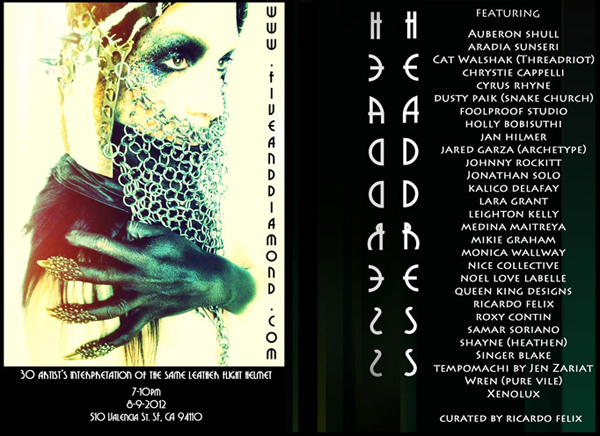 I wet felted a skull cap to fit over the given flight helmet and sheets, which I cut in strips, shaped and sculpted into the honeycomb pattern on the back. After that, it was a lot of needle felting and hand sewing.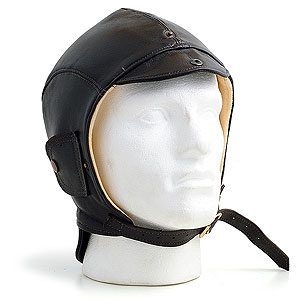 The helmet we all got was similar, but much simpler than the one above.