Mode is but a reflection of the manners of time; they are a mirror, not the original. The original being the individual themselves, the wearer.
The fashion industry is going at full speed and the concept of disposable fashion is being engrained in the west's culture and is spilling over into surrounding countries. The industry is run, owned and driven by small groups of people that take their cues from how communities are responding to politics, repression and inspiration, ultimately commodifying and sometimes appropriating culture.
The wearer has learned that they can buy a shirt for $4.99 and can throw it away the next day. Why wouldn't they? The consequences aren't seen at purchase, they have no idea where the garment came from and no idea where it goes afterwards. They also put little monetary value on the garment, which translates into practical uselessness.
Rewear is not just a garment but is really a system. An imagined way that a wearer can interact and participate in the creation of their clothing. It's a post-capitalist concept where people are the designers and scale clothing back to a local ecosphere.
Project
Below are the different facets of the Rewear project.
Material and Integration
The fabric is woven with electrically conductive threads that connect to a microcontroller via a 3D printed snap-in dock made of 3D printed conductive filament and compostable TPU. The fabric will have woven in or printed on markers for A.R. that will lend to the overall aesthetic of the garment and provide a mapping system so it can exist in virtual space. This fabric will provide an underlying breadboard-like system for other modules to snap into so that different features can be accessed. The snaps are 3D printed directly onto the fabric in a low-profile and small design in compostable TPU.
The garment is a base that gets built upon and that evolves over time. It contains metadata that can be accessed by a chip and can wirelessly transmit data to computers and phones when needed. The data the garment contains is information on where the garment was made, what it is made from, how to care for it and how to dispose of it. Those are the basics, the garment will also be able to direct you on how to alter it, make it evolve and make it your own. 
Wearer Scenario
The wearer sits in front of a camera and a display screen with the garment on, computer vision and AR are used to place different design options and features that are offered. Touch the hem of a sleeve to learn how to make it longer or the neck to create a collar design.


She designs an attachment, accessory or extension using the feedback of augmented reality.

The attachment is printed using a desktop or community printer.
The design is either kept in a library, or when done, put in the compost.

The goal is to change the relationship people have with their clothing and to demystify the process of creativity. It puts the power back in the individuals and communities' hands.
Another mode of exploration is how to create an emotional bond with a garment and hold memories within it. This exploration will include how a garment with embedded technology can become an electronic heirloom, passed down through the generations. The garment is able to tell stories which the wearer can learn from, such as the origin of a garment, creating an interface between generations.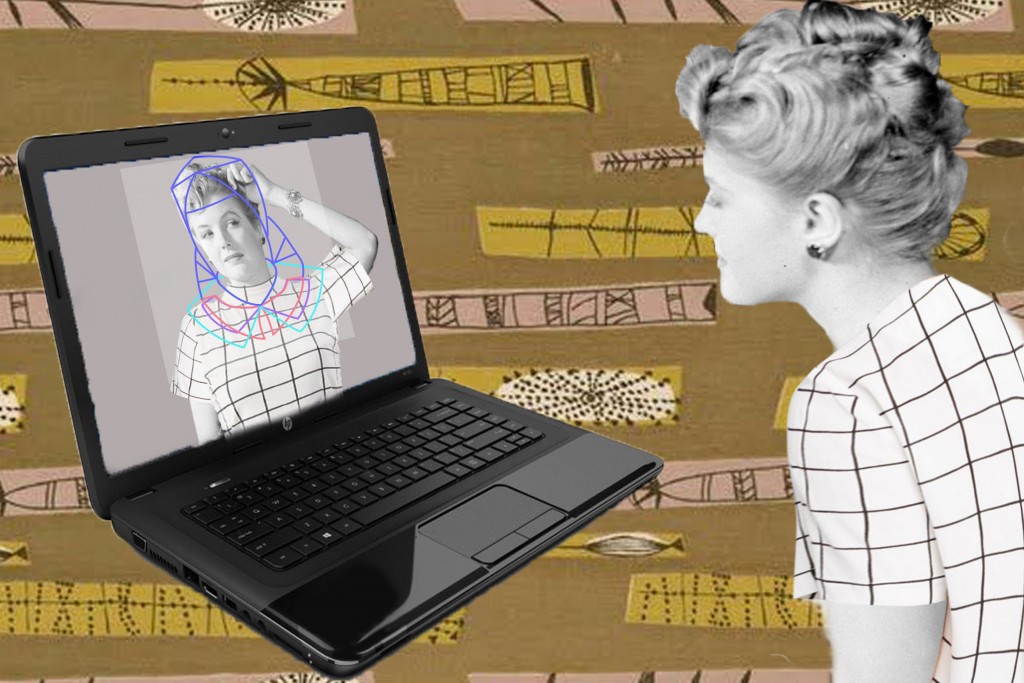 Garment's Life Cycle
Below are goals for the beginning and end of a new garment's life cycle:
Creation
The community creates and builds the clothing. This gives them an opportunity to use local materials and inevitably the designs will be tailored to their climates. The material will be made from either biodegradable or recyclable material. Creativity will be abundant and skills will be taught that will last generations.
The finished clothing is where the individual creativity starts, taking it home, wearing it and designing new looks for themselves.
Disposal
Fibers and all 3D printed parts that make up the project will be biodegradable or water-soluble to show the possibility of separating the technical and biological nutrients. When separated, biological nutrients can be put back in the earth and technical nutrients can be reused for future Rewear material.
Rewear lives as a practical proof of concept and in the speculative future. The supporting images on this page address the proof of concept, with more speculative design to come.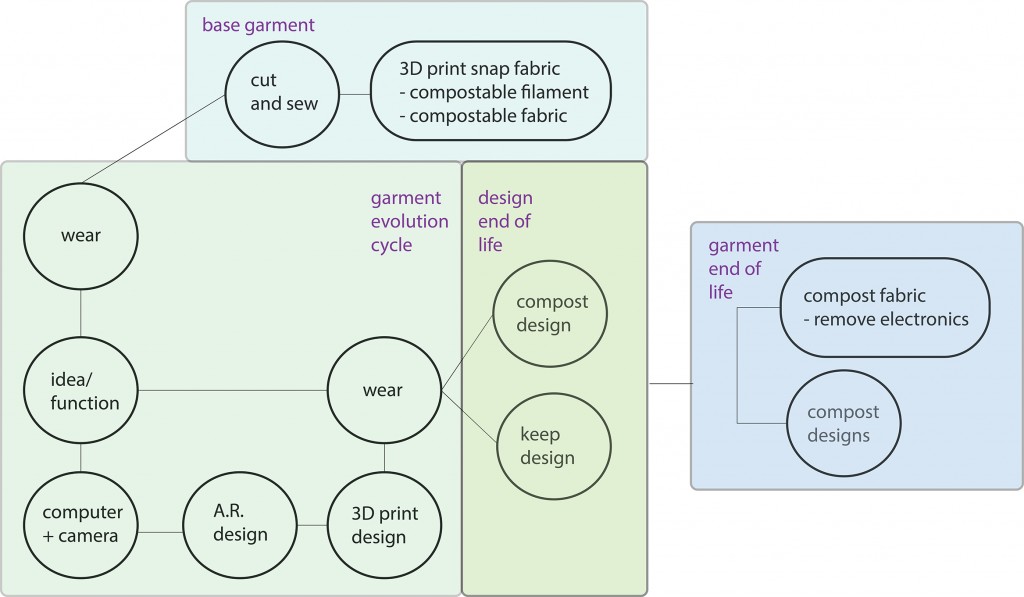 Update and Prototypes 1_28_17
There are many ways to think about sustainability such materials and their afterlife and promoting repair/reuse and changing how we value materials.
It's proven very difficult to combine and address all of the topics above in one ideal garment and physical manifestation. So, I've decided to hang up my idealist shoes for now and break apart some of these topics into separate garments and learn from thinking about how to break down and reuse/recycle or dispose of the artifacts I make and design as they come. In short, I found that I was stopped at every turn while my pencil hit the paper and realised that I must allow my mind to explore designs that do not hit all of these topics. Otherwise, I won't move forward, sideways, diagonal or in any other direction towards progress.
Currently, I am focusing on two garments.
Snap System
This takes earlier concepts and research of 3D printed snap fabric. The questions I am asking are:
Is it possible to promote modularity in clothing using the new consumer technology of 3D printing?
Can a modular system be made that can also cater to the wearable technology field addressing material life cycles and pushing back the veil between production and consumption?
Can environmentally filament be combined with like fabrics to be recycled and reused?

Craftivism on Pinterest
Besty Greer of Craftivism.com on Pinterest
Faith Ringgold 
A woman of many artistic talents including using sewing and quilting.
Chakaia Booker
Wearable sculptures and rubber tire masterpieces.
Chi Nguyen
Fiber artist activist.
i-D article "How Women are Changing the World With Textiles"
The Subversive Stitch by Rozika Parker
Craftivism: The Art of Craft and Activism by Betsy Greer
Knitting for Good by Betsy Greer
Heirloom Wearable
This piece attempts to embed some value within the garment other than the bottom dollar we see now as the main drive towards choosing an article of clothing. It uses the idea of an heirloom and past concepts and values regarding repair and appreciation of garments that last and are cherished.