eTextile Spring Break 2019
eTextile Spring Break 2018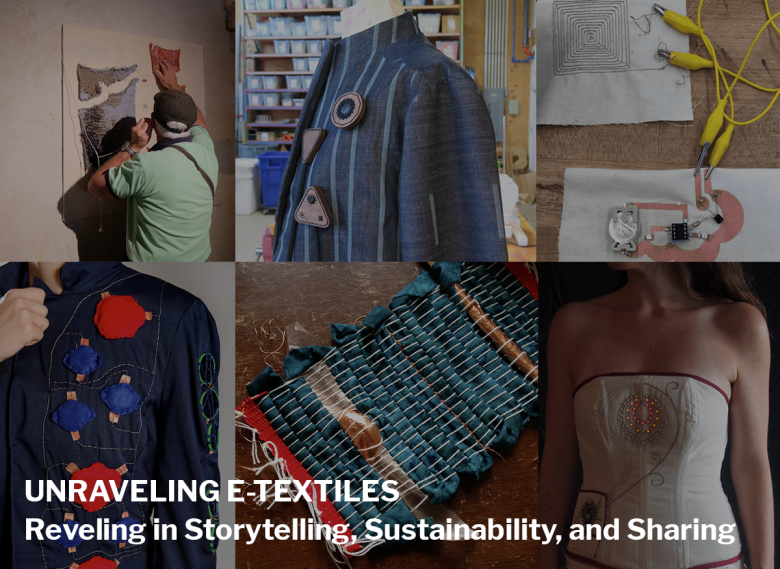 Event Description:
Join us at the Brooklyn Fashion + Design Accelerator for an evening of panels and discussions with eTextile and wearable technology experts from around the world. We'll take a broad look at the field: the dreams we have for eTextiles, the complexities in crafting wearables, and the challenges we face with them as practitioners from technical and aesthetic to social and ethical. We'll explore a range of topics related to sustainability, storytelling, assistive technology, and materials exploration. We'll discuss knowledge sharing, our relationship to traditional artisans, and community growth. We'll speculate what new futures an age of eTextiles might bring as we unravel the field's past and present.
Event Documentation:
The turn out was great and the discussion lively. The event was split into two discussions crafted and moderated by Liza Stark. 
Sustainable Wearables + Heirloom Electronics
Sustainable Wearables + Heirloom Electronics is a presentation given at Gray Area Festival, 2016. In it, I explore the mass consumer's relationship with clothing (particularly in America), electronics and what we may want to start thinking about if we are so eager to merge them on an industrial level.
Highlighted and keynote speakers from the festival: Gene Youngblood, Megan Prelinger, Morehshin Allahyari, Benjamin Bratton, Aaron Koblin.
See the full program on the Gray Area Festival website and hear all archived presentations here.