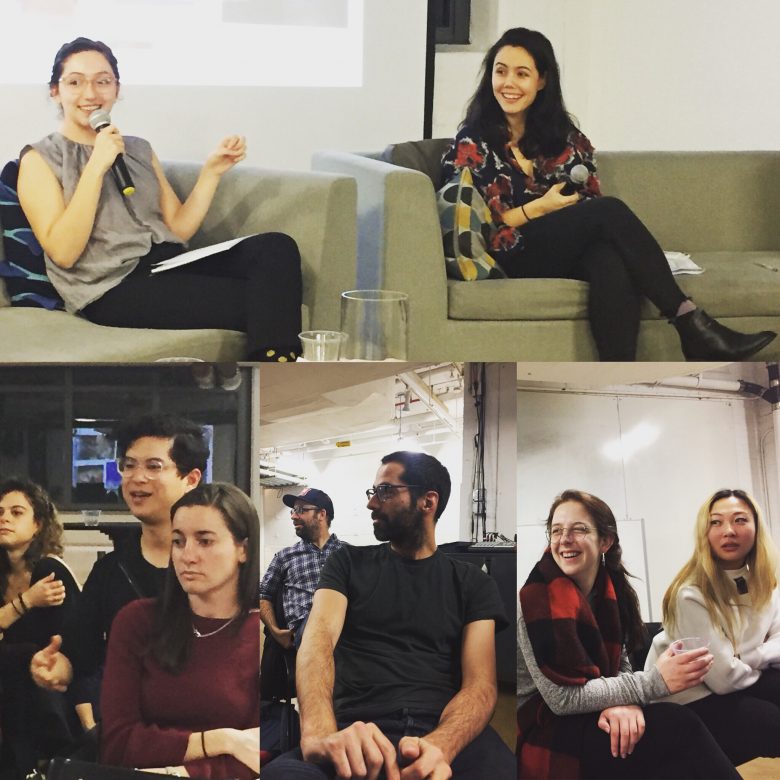 Write-up of the event. Top: Sasha de Koninck and Nicole Messier speaking on the 2nd panel about e-textiles and community. Bottom: Audience members engaged in discussion and asking questions of the panelist.
Event Description
We're starting the spring break festivities a bit early with a panel event at the Brooklyn Fashion + Design Accelerator on Thursday, March 29 from 7-9 pm. It's free (and free wine!) and open to the public. More information is below and you can RSVP here. We hope to see you there!
Join us at the Brooklyn Fashion + Design Accelerator for an evening of panels and discussions with eTextile and wearable technology experts from around the world. We'll take a broad look at the field: the dreams we have for eTextiles, the complexities in crafting wearables, and the challenges we face with them as practitioners from technical and aesthetic to social and ethical. We'll explore a range of topics related to sustainability, storytelling, assistive technology, and materials exploration. We'll discuss knowledge sharing, our relationship to traditional artisans, and community growth. We'll speculate what new futures an age of eTextiles might bring as we unravel the field's past and present.
This event will kick-off eTextile Spring Break, a weeklong residency for many of the panelists held at the Wassaic Project in upstate New York. Attendees are invited to join us again in Wassaic, on Saturday, April 7, for an afternoon of eTextile talks and an exhibition of work created during the week.
Current panelists include:
Lara Grant
Nicole Messier
Liza Stark
Sasha de Koninck
Audrey Briot
Pauline Vierne
Daniel Belquer
Projects moving clockwise:
Quantified Epopee by Audrey Briot and Martin de Bie
Heirloom Electronic Jacket by Lara Grant
Soft RFID Reader Prototype by Nicole Messier
Data Vows by Liza Stark
Sticks and seeds to tilt by Pauline Vierne
Surround Sound by Sasha de Koninck